Babies are cute little cherubs that brighten up our days. They are innocent little bundles of joy that know nothing but love and be loved by the people around them. And during the first year of their lives, babies grow at a fantastic speed from when they were born. The first thing you will notice is their height, which would have doubled by five to six months and triple by their first birthday! Within the first year, you will see all major developmental milestones of your baby, such as rolling over, babbling, baby holding own bottle, sitting up, and standing on their own!
You must remember that no babies are alike, and they will reach these milestones at their own pace. So if you hear a friend's baby rolling over by five months, and your baby still doesn't know how to roll over, or maybe you're wondering when do babies hold their own bottle? It's no cause for concern. Patience is essential, and you will know when they are ready. Now, what are these milestones? Let's check them out here!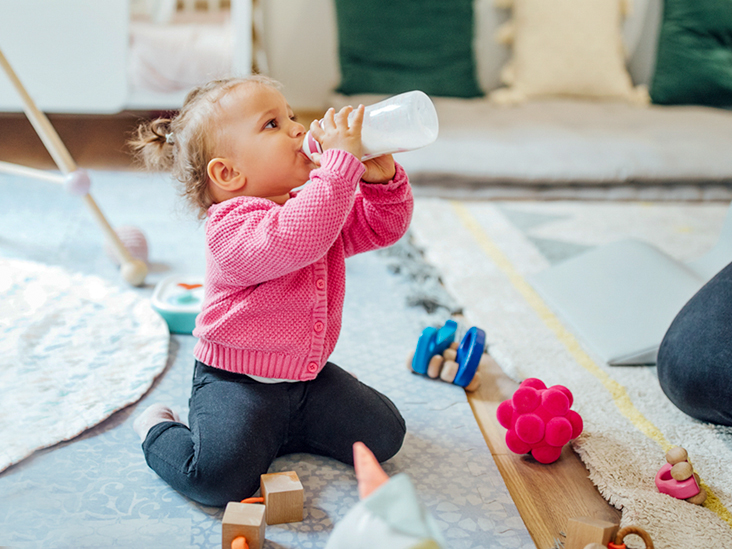 First-Month Developmental Milestones
When your baby reaches their first month, you will notice them make jerky and quivering arm movements. They will also start bringing their hands on their face, so be careful with those nails! Most of the time, they will be keeping their hands in a tight fist. They will also move their heads from side to side while lying on their stomach. Did you know that babies can also start focusing on objects that are eight to 12 inches away? Most of all, they prefer human faces to other shapes! And you'll be surprised by how good their hearing is.
At the End of Your Baby's Third Month
A baby nearing their third month can already raise their head and chest when laying on their stomach. They can also support their upper body with their arms while lying on their stomach. They also know how to kick or stretch their legs when lying on their back or stomachs. Their legs are so strong; they can readily push down on their legs when feet are placed on a firm surface. It's also around this time when babies start bringing their hands to their mouths. They will begin to watch your faces closely and recognize familiar objects and faces at a distance.
When a Baby Reaches Their First Birthday
Once your baby reaches their first birthday, they can sit without any assistance. They can also get into the hands and knees position. Their arms are also strong enough for them to pull themselves to stand up. They also know how to walk while holding on to some type of support. Babies also learn how to use pincer grasp (thumb and forefinger). In addition, they know how to say dada and mama and use exclamations. And best of all, they will start imitating your words!
One of the most complex elements of a child's upbringing is to find shoes. Yes, especially when you're in the department shop where you spend one or two hours roaming, trying one shoe after the other. The introduction of the Internet and online shopping changed everything. Now you may browse online for fashionable shoes. In this approach, you would not get your son or girl too drained till he or she picks the correct shoes. You'll find the perfect and easy technique to shop for fashionable shoes online in this article.
Children today are very advanced in technological device play and navigation. Allowing children to see some of the cool shoes they want will make you feel so complicated. That is why knowing the basics of shopping online is vital. Here is a systematic approach to grasp the benefits and dangers you will face when purchasing fashionable online shoes; get to know more from https://babyrooms.co.il/.
It would be best if you collected the necessary things, like a mobile equipment able to connect to the Internet, a robust Internet connection and a list of cool shoes you want to buy. You can use either your debit or credit card to make payment transactions online.
Now that you have all these things, it's time to experiment. Ideally, you can enter keywords. These motors will provide you the relevant results when you go shopping. Keep in mind that not all the sites are safe, so you must select the reputable ones that are legally permitted to distribute and sell the goods you are looking for. Some big corporations are eBay and Amazon, but others offer shoes at far more profitable pricing.
Most individuals rely on brands to justify the quality and robustness of their shoes, while others rely on cheaper design and the rest. The good news is that you can find all the criteria in one place because internet shopping has low maintenance and operating costs. An online seller can display almost all excellent shoe models that your kids want to wear. You will, of course, allow your child to select his favorite cool shoes online. If you think your boy has chosen shoes, is it somewhat pricey to look for that shoe model at other stores since other websites provide promotions? You should take this opportunity and gain more out of your money.
Children are meticulous when it comes to cool shoes, but you don't need to be anxious to buy your children a shoe with the help of the Internet. The main drawback of online shopping is that your child cannot fit the shoes before buying them. That's why you need to read online store policies and directives so that you can either return or exchange the item if it doesn't suit your kid's feet well.